Members Only Login
1. To log into the New Jersey Grand Lodge Members Only Section you will need your Dues Card.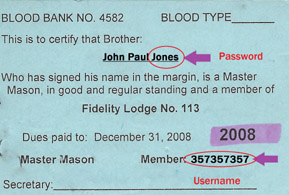 2. Your Username which is your Full Membership ID Number.
3. Your Password is your Last Name with the First Letter Capitalized.
Click HERE to login to the Members Only Website or
www.njmasons.com
If you have trouble signing in please email us at GLOFNJ@NJMASONIC.ORG and complete the form and a support member will contact you within 2 weeks.