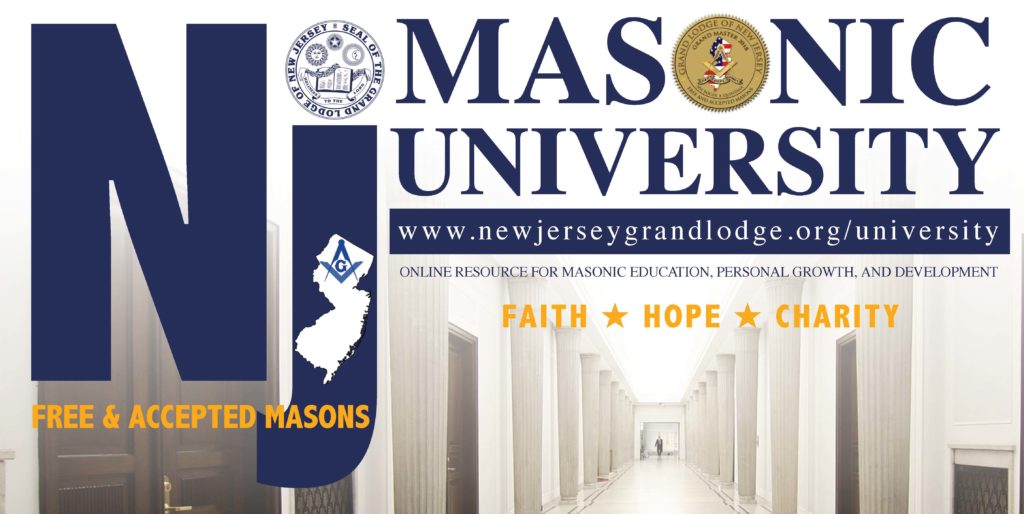 An Online Resource for Masons Seeking Further Light
The Grand Lodge of New Jersey, under the direction of M.W. Roger B. Quintana, 2018/19 Grand Master of Masons of the State of New Jersey, is creating an online resource tool designed to provide working tools for the brethren and potential candidates, instituting a new Masonic University titled New Jersey Masonic University. The University is free of charge and is open to the public to learn more about leadership while journeying on your own path towards enlightenment.
The New Jersey Masonic University consists of a few main modules:
Each has their own information to help assist you on your journey. Travel East!
Society of King Solomon
The Grand Lodge of New Jersey, under the direction of M.W. Roger B. Quintana, Grand Master of Masons of the State of New Jersey, is taking an initiative to promote and advance Masonic education by instituting a new educational program titled Society of King Solomon. This free of charge, prestigious educational program, will be open to all Master Masons in good standing in our Grand Jurisdiction and will cover a wide variety of educational material that will give the seeker a solid foundation and the appropriate tools to pursue his own path of enlightenment.
You Must Be A Master Mason in Good Standing
With The Grand Lodge of New Jersey to Register
Note: It may take up to 2 weeks to verify your application
David Brearley Award
In order to earn the David Brearley Award, a newly raised Brother must achieve all 6 required activities and at least four electives. The time frame to accomplish these activities is 1 year from the date he was raised to the Sublime Degree of Master Mason. Upon completion of the required activities, The Lodge Secretary will
forward to the Grand Lodge Office this David Brearley Award application along with the appropriate signatures.
The Grand Lodge Office will process the application and mail the applicant's medal and his certificate to the Lodge Secretary for presentation at either the applicant's Lodge, District Lodge of Instruction or an
Official Visit.
The future of our fraternity and our ability to continue to grow our membership is highly dependent on being able to engage and integrate our new members into the activities of the Lodge. When new members become involved and active in their respective Lodges they become the best models for new candidates to emulate.
The David Brearley Award is an official means by which we can achieve these membership goals.
CLICK HERE TO DOWNLOAD APPLICATION
MUST BE MASTER MASON IN GOOD STANDING IN NEW JERSEY